'Tis the season to savour joyous flavours at the Millstone Public House! Dive into the festive spirit with our exiting holiday feature menu, showcasing some delicious items we think you're going to love
Starters
Festive Poutine:  Enjoy layers of warmth with crispy hand-cut fries, fresh cheese curds, roast turkey, savoury gravy, stuffing and a touch of cranberry sauce. A symphony of holiday flavours in every bite!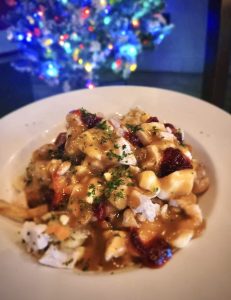 Raspberry Cashew Baked Brie:  Elevate your palate with creamy brie adorned with raspberries and candied cashews, oven-baked to perfection, and served with crostini. A delightful prelude to the festive feast.
Main Courses
Roasted Turkey Dinner: Enjoy succulent roasted white meat turkey, accompanied by mashed potatoes, seasonal vegetables, house-made stuffing and cranberry sauce. Topped with a generous pour of turkey gravy, it's a celebration on a plate!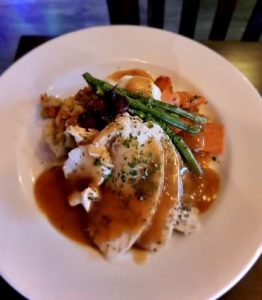 Hot Turkey Sandwich:  Revel in comfort with an open-faced hot turkey sandwich on sourdough, generously layered with stuffing and cranberry sauce, smothered in homestyle turkey gravy. Pair it with your favourite side for the perfect meal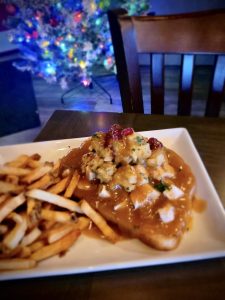 Dessert:  Sticky Toffee Pudding:  Conclude your holiday feast on a sweet note with our indulgent sponge cake, drenched in a warm toffee sauce, and crowned with velvety vanilla ice cream.
Available throughout December at all three Millstone locations. We are 100% locally owned, and operated, proudly Nova Scotian. Join us in creating cherished memories and indulging in the spirit of the season.
Make plans to ring in the New Year with us as well! Call to book your table now
Baker Drive 902-461-8053
Bedford   902-431-8053
King's Wharf 902-404-8053