You and three lucky friends could win dinner and drinks at our beautiful Millstone King's Wharf waterfront location, a limousine ride to the Halifax Thunderbirds game and 4 passes to the Molson-Coors Private Suite with complimentary food and beverage service.  For the winner Friday January 13th will be a night to remember!
This prize is valued at $1,000.  Go Thunderbirds!
To enter:
Follow this link to find our Instagram page.  Like, follow and share the contest post tagging the friends you'd share this with  CLICK HERE
Follow this link to find our King's Wharf Facebook page.  Like, follow and share the contest post there too!  CLICK HERE
You must follow our page, tag friends and share post to be entered.  Winner must be 19 years of age or older.  Winner will be contacted through socials.  If prize not claimed within 24 hours a new winner will be chosen.  Draw will take place Wednesday January 11th.  Best of luck!
Do you have plans for New Year's Eve?  How about booking a table at the Millstone Public House? We will be offering our full regular menu plus two incredible specials for you to choose from.  Call the gang, count the people who want to join you and make that reservation. Plans sorted!  At our beautiful King's Wharf location we will even have LIVE MUSIC from 9 – 12 pm and an incredible view of the fireworks over the harbour!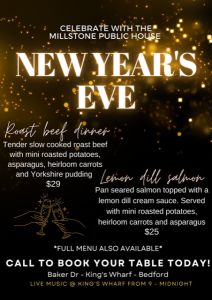 Millstone Baker Drive 902-461-8053
Millstone Bedford  902-431-8053
Millstone King's Wharf 902-404-8053
And don't miss Eddie Cummings LIVE this SATURDAY DECEMBER 17th at King's Wharf.  No cover, 1/2 price cocktails, great food, good times.  'Tis the season to chill out with friends and family. Life opens up when you do.  Come as you are!