We are feeling a lot of love these days.  With less than three weeks under our belt at the King's Wharf location our reservation book is filling up and our seats are wearing in.  Our staff have really gone above and beyond to welcome you into the space and make you feel at home.  The awesome regulars at Millstone Baker Drive and Millstone Bedford have continued to show their love to their community pub and many have made the trip to the waterfront to say hello and raise a glass to that ocean view.  Simply put, we couldn't do what we do without you and we are forever grateful!
The love fest continues this weekend with a Valentine's Day feast.
Choose from our three course set menu with salad and pasta and a difficult decision to order the dessert or the wine??  What to do!  This feature is available Sunday only for dine in or take out.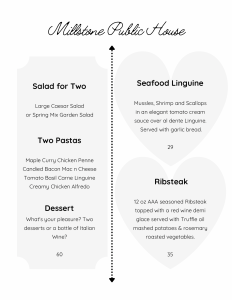 We will also be offering two beautiful specials  on Sunday.  The Seafood Linguine is sautéed to order with loads of shrimp, scallops and mussels in a delicious tomato cream sauce.  Our 12 oz Ribsteak is brushed with rosemary oil and seared to keep in the juices then served with truffle oil mashed potatoes and roasted vegetables.  Enjoy it with your favourite wine from our list and you've made a night of it.
To book your table please give us a call.  Reservations are never required but can help to avoid a small wait for a table.
Millstone Baker Drive  902-461-8053
Millstone Bedford 902-431-8053
Millstone King's Wharf 902-461-8053
Order online at www.millstonepublichouse.com
Please note we will be CLOSED Monday February 15th for Heritage Day.