To celebrate our fourth birthday we have decided to something special!  We have come to know many of our regulars and they have come to love many of our dishes.  When a favourite is removed from the menu to make space for something new, fresh and exciting, we will often hear how much that particular dish is missed.  Well, we hear you…we really do.
For a limited time our incredible kitchen team will be preparing all your old faves from previous menus.  Check out the full schedule below and plan your next visit to the Millstone. We're calling it Throwback Thursday and we think you're going to love it.  If these features are popular enough we may even bring one or two items back to the regular menu.
Come grab a seat. You're a stranger here but once.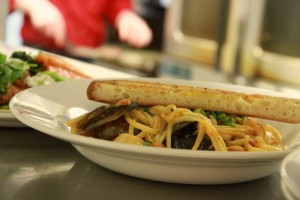 February 6     Spaghetti and Meatballs
February 13   Seafood Linguine
February 20  The Mobster
February 27  Buttermilk Chicken Fingers  
March 5         Chicken Parmesan
March 12      Salmon with a horseradish dill cream sauce
March 19     Seafood Sandwich
March 26    Chicken and Brie
April 2        Caprese Salad
April 9        Monaco Salad
April 16     Seafood Linguini
April 23     Mac n Cheese
April 30    Chicken and Brie