It's Thanksgiving weekend! If you're keen to celebrate the holiday but not so keen to do all the cooking and cleaning then we have a great option for you.
Our incredible kitchen team will be roasting turkeys, baking pies and mashing potatoes for you. Available dine in or take out from 11:30am to 9:00pm Sunday October 11th and Monday October 12th. Single order or family style meal.
Roast Turkey with red pepper and Italian sausage stuffing, rosemary and cinnamon cranberry sauce, fresh baked focaccia bread, garlic and herb mashed potatoes, roasted sweet potatoes and house made gravy.
Single order comes with all that and a slice of house baked pumpkin pie. $22.00 plus tax.
Family Style Feast will have the turkey dinner with all the trimmings for four people, plus a whole pumpkin pie and your choice of Red or White wine ( One Litre bottle of Italian table wine). $100.00 plus tax.
Quantities are limited. To pre-order, send your name, phone number, restaurant location (Dartmouth or Bedford), pick up or dine in,  and your selection (single dish or family style, red or white wine) to Joanne@millstonepublichouse.com
You don't have to pre-order but it may help to avoid disappointment if we sell out.  If you are planning to dine in with us, we will have our full regular menu available as well as our Turkey Supper.  Reservations and walk ins are welcome.  
Happy Thanksgiving from all of us at the Millstone Public House.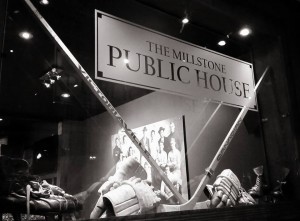 Millstone Public House is a locally owned pub and restaurant serving up great Burgers, Pastas, Nachos, Wings, Seafood dishes, fish n chips, brunch, local craft beer, wine and so much more.  Come as you are…