We are taking orders for the Grocery Bag Service this week.  If you are interested in grabbing one of these pre-packed grocery bags for $100 please send your Name and Phone number in an email with GROCERY ORDER in the subject line to the restaurant closest to you.
Our staff will contact you on Wednesday to take payment over the phone and schedule pick up or delivery for Thursday April 30th.  This service is available with no contact. Curb-side and trunk drop as well as home delivery available.  Delivery fee is $1/km paid directly to the driver.
We want to thank you for your ongoing support through this difficult time.
Sincerely,
The Millstone Team
Also, from Wednesday to Sunday we are able to offer prepared meals plus beer, wine and dessert for pick up and delivery.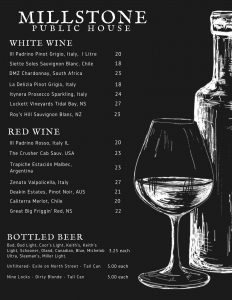 Our hours of operation are:
Sunday  4:00 – 8:00pm
Monday CLOSED
Tuesday COSED
Wednesday 4:00 – 8:00pm
Thursday 4:00 – 8:00pm
Friday 12:00 – 8:00pm
Saturday 12:00 – 8:00pm