In a market populated with large and increasingly ornamental tap handles, the Unfiltered ones are easy to miss.  Unless of course you are a fan and then you know what to look for.  In a way the small, sleek, stainless steel pulls are a nod to the way the beer is made.  Totally without pomp or additives.
When I had the chance to tour the Unfiltered Brewery and speak with brewmaster Greg Nash, I asked him why he chose such a diminutive nub.  His reply, like his beer, was straight forward and with no BS. "For me, it's not about anything but the beer.  It's got to taste great.  No fluff.  No smoke and mirrors."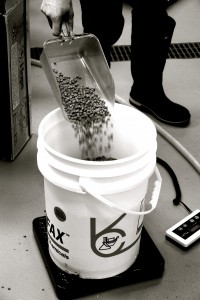 Made of just four basic ingredients, Water, Barley, Hops and Yeast, the beer is live and, as the name would suggest, unfiltered.  This gives it a noticeably cloudy appearance but there are a few reasons to leave it "LIVE", which is what beer is called before it gets filtered.  It turns out brewers yeast is one of the richest natural sources of Vitamin B complex.  Beer that has not been filtered is loaded with B vitamins.  Why does this matter you ask?  Well, it turns out B Vitamins are leached from your body when you drink alcohol and their departure contributes significantly to the depth of the next day's hangover.  Drinking beer full of B Vitamins could both cause and cure that hangover in one delicious gulp.  Secondly, Live beer is more flavourful, has a stronger body and is higher in mineral content.  This richness allows the beer to taste great all on its own.  As Nash puts it, "The beer is au natural!"
"Everybody wants craft beer.  They want to eat and drink locally.  They want to know what they are putting in their body," Nash explains. "It's the way the world is going..slowly but surely.  For us it's about the beer.  Making great beer from natural ingredients and doing what we do well.  From the Grain to the Glass it's three weeks."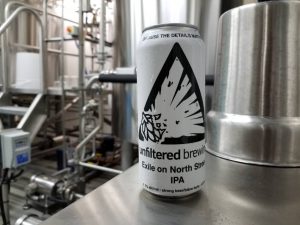 We have cans of Exile on North Street available for take out and delivery with meals.  Grab a few and enjoy a glass of some great local craft brew.
To order call the restaurant at:
Dartmouth  902-461-8053
Bedford 902-431-8053