After missing out on a whole year of Holiday Parties and Weddings we are thrilled to be able to welcome back these important events.  It's time to come together again and celebrate these milestones at the Millstone!
We are now taking bookings for Holiday parties and weddings from 10 – 130 people.  Each Millstone location has its own unique opportunities to host these groups.
The Millstone on Baker Drive has a private back room that can accommodate 25 people , the dining room can accommodate up to 50 guests or the whole restaurant can be booked for a private function of up to 100 guests.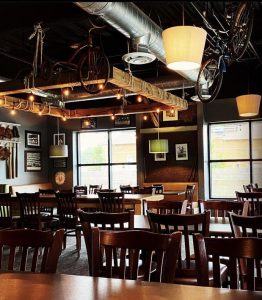 Our Bedford location has two sides that can be booked for up to 45 people or the whole space for 90 people.
The Millstone Public House at King's Wharf, the largest of the three locations, has multiple areas that can be rented out for groups or the entire space can be booked for a private function up to 130 guests.   We have taken down some walls and opened things up.  Not only does this provide incredible ocean views and stunning natural light, but also adds the opportunity for a small dance floor.
If you are looking for a great place to hold your holiday party or wedding, please give us a call.  With three beautiful and unique locations we know we can find one that suits you perfectly.
Millstone Public House Baker Drive  902-461-8053  BakerDriveMPH@millstonepublichouse.com
Millstone Public House Bedford 902-431-8053 BedfordMPH@millstonepublichouse.com
Millstone Public House King's Wharf – 902-404-8053 KingsWharfMPH@millstonepublichouse.com