---
The Downtown Dartmouth Food Crawl is a culinary adventure that has captured the hearts of locals and visitors alike. This self-guided walking food sampling tour takes you on a journey through the vibrant food scene of downtown Dartmouth, offering a tantalizing array of flavours  and a great way to support the incredible local food scene.
On Thursday, October 19th from 5:30-8:00 mark your calendar to enjoy a Millstone Slider for just $7, or upgrade your experience with a side of hand-cut seasoned French fries for $10. Come explore  the charming King's Wharf area and support numerous small businesses that make this event truly special.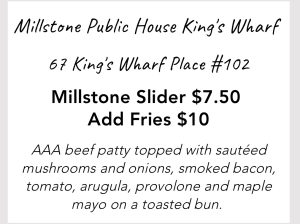 Go to www.downtowndartmouth.ca to get all the details and a map of all the great local business offerings.
We take immense pride in being 100% locally owned and operated, with three unique locations across HRM. Your support fuels our culinary endeavors and enables us to continue doing what we love. We're profoundly grateful to the community that makes it all possible.
The Downtown Dartmouth Food Crawl promises an unforgettable experience, steeped in local flavours and community spirit. We invite you to join us on Thursday, October 19th, to be a part of this fun tradition. Together, we'll explore the culinary wonders of downtown Dartmouth, enjoy local delights, and support small businesses that make our community thrive. Your participation and support are what keep our passion alive. Thank you for being a part of our journey, and we can't wait to share this culinary adventure with you.