Hello, Millstone Public House friends and enthusiasts! We've got some exciting updates and events to share with you, and we can't wait to dive right in. As always, your favorite local dining spot is here to make your moments memorable and delicious.
1. Another Beautiful Wedding on the Waterfront
First and foremost, we want to let you know that on Saturday, September 30th, the Millstone King's Wharf will be closed for a very special occasion – a beautiful waterfront wedding! Imagine celebrating love with ocean views, delicious catered meals, a full bar, and even a dance floor. It's a dreamy setting that we're thrilled to be a part of.
We love helping create unforgettable moments, and if you're thinking about hosting your special event with us, don't hesitate to reach out to Megan at Megan@millstonepublichouse.com. She's our expert event planner, and she can't wait to work her magic for you.
2. Turkey Dinner Extravaganza!
Are you ready for a mouthwatering treat? Next weekend, all three Millstone Public House locations will be serving up a delicious Turkey dinner to celebrate the holiday weekend. Picture tender roast turkey, creamy mashed potatoes, cranberry sauce, seasonal veggies, and hearty gravy – all in one plate. Available Friday October 6th through Sunday October 8th while supplies last. It's the perfect way to embrace the flavours of the season with your loved ones.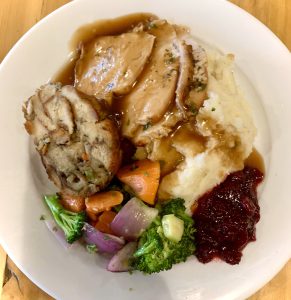 As much as we enjoy serving our wonderful customers, our dedicated staff deserves some time with their families too. That's why we'll be closed at all three locations on Monday, October 9th, to let them celebrate and recharge.
3. Plan Your Holiday Party Early
Believe it or not, the holiday season is right around the corner! Our Friday and Saturday nights in December tend to fill up quickly, so now is the perfect time to start planning your holiday party. Whether it's a festive gathering with friends or a corporate event, Millstone Public House is the place to be. With the option for a private dining room for 25 people or a whole restaurant reserved for 120 people, we have the space to make your event a memorable one.
You can reach out to your preferred Millstone location directly to inquire about availability, or simply shoot an email to Megan@millstonepublichouse.com. She's your go-to source for turning your holiday celebration into something truly magical.
Millstone Public House Baker Drive 902-461-8053
Millstone Public House Bedford  902-431-8053
Millstone Public House King's Wharf   902-404-8053
We want to take this moment to express our heartfelt gratitude to all of you for your continued support. The Millstone wouldn't be what it is without our amazing patrons. We look forward to serving you, celebrating with you, and making every moment special. Thank you for being part of the Millstone family!
Stay tuned for more exciting updates and delicious offerings from Millstone Public House. We can't wait to see you soon.