Happy New Year!  With 2020 behind us we are excited to look forward to better days ahead.  This year we will slowly come together again and enjoy the simple freedoms we may have overlooked before.  As we look ahead we will also remember the sacrifices we made to keep each other safe in a time we'd all like to forget.
Today we are offering two great specials.  First, we are bringing back the popular Party Platter we offered on Boxing Day.  All your favorite Millstone appetizers in one convenient box. Cheesy bacon covered Irish-style nachos, House-made fried pickles, Sweet Potato fries, Panko crusted onion rings, Our 'hit" Pulled Pork Wontons and 6 Coors light. All for $45.00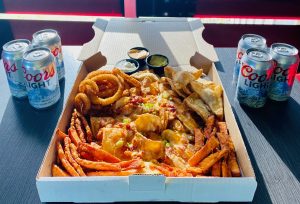 Also, we have fresh baked some classic Acadian Tourtierre for dinner tonight. A mix of ground beef and pork, onions and a blend of seasonings in a golden baked pie crust, served with Maple style baked beans and a fresh garden salad for  $15.00
You can order at www.millstonepublichouse.com or by phone.
Dartmouth 902-461-8053
Bedford 902-431-8053
Also, we are happy to announce we will be OPEN for dine in starting Monday January 4th.  Back to regular hours with that comfortable and welcoming service we are known for.  It was a great moment to be able to call our staff and bring them back to work!  2021 is already looking up.
Stay tuned here for details of the Millstone Public House King's Wharf location.  It is a stunning space with beautiful natural light and ocean views!  Tentative opening date in late January.   Follow us on Facebook for an opportunity to be invited to our soft opening night.
Thank you for your ongoing support.  We couldn't do it without you.
Sincerely,
The Millstone Team.