Well…here we are again.
When we laid off 80% of our staff back in March it broke our heart.  At that time we didn't know if or when we would hire them back or even if the business would survive what was coming.  The few remaining staff we kept on pivoted then pivoted again; teaching themselves how to answer two phones at once while packing orders, bagging groceries and comforting each other through the most uncertain and frightening time of their lives. Our cooks prepped in a quiet kitchen all day then got hammered by a flood of orders between 6 and 7pm each night all while worrying they would possibly lose their job if the orders stopped coming in.
The orders did keep coming in.  The community showed us a level of kindness and support that we could only describe as incredible.  It kept us all going.  Every kind comment in person or online was gas in the tank to keep going.  You bought Gift Cards in droves for a restaurant you couldn't be certain would ever open again and it meant the world to us.
When we were able to open again you showed up.  Our masked staff smiled with their eyes and you dutifully sanitized your hands and kept your distance from the other customers.  When we installed walls between tables you commented that you loved them and  said they were cozy.  After hours of building, painting and decorating them in our garage it was great to hear that. You raised your voice to be heard through Plexiglas and ordered another drink and we loved you for it.  With every change we made you were there for us and slowly, between July and November we hired back all our staff plus a few new faces.  We booked Christmas parties and planned a customer appreciation night for the evening when we could finally kiss 2020 goodbye.  Then we were shut down again.
To lay off staff en masse once in a lifetime is agony.  To do it twice in a year, the second time right before Christmas, is unthinkable.  One by one we called them to send them to the Service Canada lines and they told us they understood and wished us well and said "keep the Millstone going so we have a place to come back to".  We promised them we would.  We did it before and we will do it again.
The Millstone Public House is a locally owned small business but it is also a family.  We care about each other.  One of our managers volunteered to take a lay off so one of her staff could keep working.  It didn't surprise us that she did that because that is what our team does for each other. It did break our heart to let her go though.  The gut punch of this year is palpable.
So, to our customers we say thank you!  Every order, every call, every compliment, every kind word and social media share is invaluable to us.  Over this holiday season as you hear the rally cries of Shop Local just know that every small business truly needs you.  You are the only way through this.
Here are our new hours for take out and delivery:
Monday CLOSED
Tuesday CLOSED
Wednesday 4:00 – 8:00
Thursday 4:00 – 8:00
Friday 4:00 – 9:00
Saturday 12:00 – 9:00
Sunday 12:00 – 8:00
We have online ordering available at www.millstonepublichouse.com 
Click and send.  We will call you to schedule pick up or delivery and take payment over the phone.
No contact pick up or trunk drop.
We have a promotion this month.  Buy a $50 Gift Card and we will add a Free Millstone Mug.
You can add this to your online order or call to buy.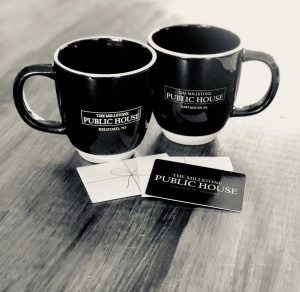 We also have some cozy hoodies and Millstone T-shirts  and hats you may want to add to your cart. Our staff can help you get the right size and colour.
From all of us at the Millstone Public House we wish you a safe and Happy Holiday Season and thank you for your support.
Sincerely,
Joanne McCullough
Owner & Operator
Millstone Public House Dartmouth (902)461-8053  250 Baker Drive
Millstone Public House Bedford (902)431-8053  50 Gary Martin Drive